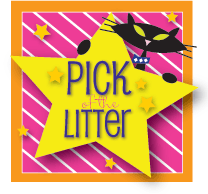 Hi guys! I was completely THRILLED when I saw that this card was featured as Pick of the Litter on Thursday at
The Cat's Pajamas!!!
If you read my blog at all, you know I am a MAJOR fan of their fun stamps! You can go
here
to see my original post on this card. I have to set this card aside for my Mom, she has requested it;) Have a stellar day! I'm working on some stuff to show you very soon!
Take it easy!! -Noelle