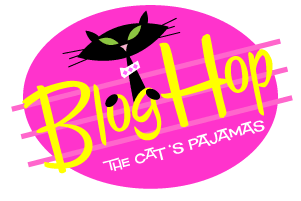 Hello there! I hope you are Hopping along our New Release Hop for
The Cat's Pajamas!
You should have come here from
Lisa's blog
. If you are lost and would like to start the Hop at the beginning, please go to
Julie's blog.
Julie is also our Hostess for this TCP Tuesday color challenge! I LOVE this yummy fall palette she chose. The blue and gray are just different enough to make this an interesting and beautiful palette.
I really had fun with this! I used Vintage Halloween
Here is my card:
I used some charcoal seam binding as an accent with a layered fluffy bow at the top. that embellie was a pre-made one from my stash.
I also wanted to show you the fun project I showed at the Pajama Party! I made these candy pop-ups for my boys, using "Eat, Drink, and Be Scary" "Brains," and "Boo Y'all." Their names are stamped with the Coolevtica alphabet onto the oval panel from the Circus Panels CutUps.
The Cutable file to make the pop-ups is only 1.99 and cuts all the mats as well! When you open the card the candy slides up, it is so SO cute! Alma has a
video here to show you how it works.
These were SUPER easy using my Silhouette Cameo.